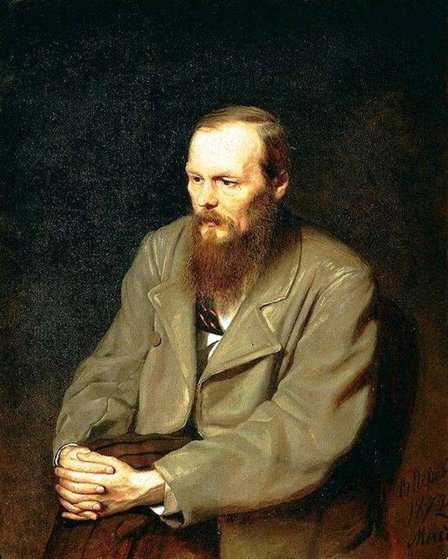 The best Dostoyevsky novels are hardly labyrinthine. Sure, the psychoanalysis-before-textbook-psychoanalysis existed is fantastic, deep, and complex—they're high-concept books, but Crime and Punishment and The Brothers Karamazov seem to resonate with people for far simpler reasons. Those two books have his simplest core plots (despite the grand size of Karamazov), and the way the narratives plays out is really a great deal of "fun". Everything else is simply crafted on top of this quality foundation. That's the difference between a term paper on desperation versus a novel about it.
The core, the spine, the "focal-center" of both aforementioned stories is that they're murder mysteries, whodunnits before whodunnits existed. Now, while I haven't managed to reach a sufficient understanding of why Brothers Karamazov is so affecting (it's truly just a 1,000+ page "the butler did it" story), I'm feeling somewhat confident in my assessment of Crime and Punishment, which kinda has the same model flipped on its head; C&P succeeds due to its excellent handling of a whodunnit where we know whodunnit.
In third-person omniscient (which I believe was a brand new idea at the time), we watch C&P's hero, our murderer Raskolnikov, toil. We watch him deliberate. We watch him narrowly escape the desire to turn himself in over and over again.
Dosty doesn't just craft the book well, but has selected an entire scenario and situation that lends itself to absolutely nothing but suspense beginning to end. Regardless of whatever insightful conversation may be going on, Raskolnikov's hidden guilt can only bring us to our ending in a handful of ways: escape or admission.
While we do know whodunnit, we begin to realize we don't fully know who he is, and during this time, we learn a lot more about our murderer by watching him struggle beneath pressure (as it's hard to be anyone but your honest self when under so much stress—one of the reasons why conflict is integral in storytelling). His virtue in light of his guilt, his desperation bundled with his confusion: meaty storytelling delivered with a side of veggies.
This got skipped over in a lot of my lessons: The Conceptual McGuffin, the similarities between the cursed "genre fiction" and prestigious "literature"; we're chasing the conceptual carrot of Raskolnikov's release from his guilt.
The natural empathy of the novel is what's used to create the push. Rasky's misery is our dangling carrot, and Rasky's misery is what Crime and Punishment "is". A simple, effective, and still unique core.
I'll always remember my experience with Crime and Punishment for the grand insight it gave me into the human mind, and for the things Dosty gets me to think about. I'll also always see it like this: "I picked up this novel called Crime and Punishment. It was pretty cool. It gripped me beginning to end—a page-turning and fatiguing sort of gripping, but a page-turning one nonetheless. It was fun, which is often forgotten when attempting to craft something of 'great worth and merit'." This goes for all media, and all things I or anybody else creates. Art is best when it's entertaining and engaging, but when pulling from the proper channels, it ends up that way by default.